I am making a lamb for someone's birthday. They're paying me $40!!!
I already got $20 as confirmation
Amazing
good luck
Oo this is cool. Have been super productive today!! Had the day off and finished the tail end of a granny square backpack and a cardigan I've been working on for awhile
Now I'm working on the super cool Maggie Bag by hookedME
I'm making my mom a crochet flower bouquet for Mother's Day so I'm hunting down patterns for it.
@Mayte
Another ribblr is doing the same thing! you may want to look into this thread where other ribblrs pointed out patterns.
Finishing up all those little things that were needing to be completed…got the wings sewn on the red dragon costume, fixed the wings on the yellow one, sewed a few flower motifs on a sweater i finished ages ago, and 4 more blocks made for my BeachComber Cardigan. Sign me: happy. ((I need to clean…there's yarn tails EVERYWHERE.))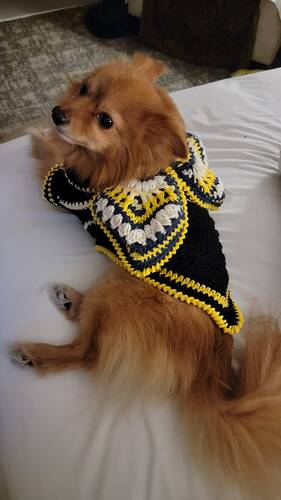 Oooo that's really cool! good luck!
I'm testing some squares of a mario blanket
I'm working on a horse
. I have the two back legs left to create before I can put her together.

The pattern is by: Violets&Heather
That looks so good and welcome to the community!
That's so adorable!!
Thanks