Ready to see our new feature drop?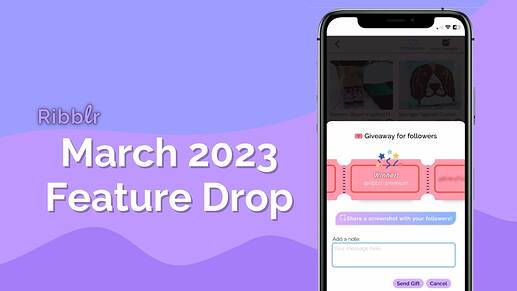 ---
Giveaway for shop followers
You probably have seen and participated in our Lightning giveaway event where we announced this feature and gave some designers early access.
This cool new feature allows designers to host a giveaway for their shop followers only!
Just click the settings icon next to any of your patterns, hit the 'giveaway' option and get going!
You'll see a draw the winner and you can then add a note and gift the pattern.
Don't forget to take a screenshot too!
This is a particularly useful feature if you want to host a giveaway on social media but don't know how to draw a winner or if you want to encourage more people to follow your shop.
---
Auto-generated tags
Our software now automatically scans your libraries and auto-generated useful suggested tags.
This will help you filter out patterns in your wishlist & library with ease.
Auto-generated tags are also available in all Ribblr shops so you can easily find patterns.
Go ahead and click on a tag to check it out!
---
Interactive links in Ribblr ePatterns
You can now find interactive links in Ribblr ePatterns leading you to other patterns or shops on Ribblr.
Designers - simply paste a link to any Ribblr shop or patterns to any line in Ribbuild and watch how the link transforms into an interactive link.
This is particularly useful if you want to link a series of patterns or recommend a shop or pattern to your customers.
This also supports $elFee links!
---
Downloadable assets
You can now download Ribblr assets if you need to use them on your website/social media page. For example - our logos, the "Dropping Soon" icon and more.
---
Even more…
~ New & improved tours in Ribblr ePattern, Ribbuild and for new shops
~ Ambassadors badges in shops
~ Community enhancements
~ Bug fixes & improvements
---
Previous feature drops
Did you try our Pattern Drop feature yet?
In cased you missed it - check out our previous feature drops!
---
Have your say
We release a new feature drop every month so share your suggestions on the community tab.
As always, huge thanks to @RibblrTesters for testing the new features
What is your favorite feature?
Giveaway for followers!
Auto-generated tags!
Interactive links in patterns!
Other (share below!)