Hi Ribblrs!
We're really excited to introduce new features and improvements on Ribblr.
As always, our feature drop includes many improvements that were suggested by you so we would like to take this opportunity to thank you for your feedback!
Want the full release notes? Check it out below or TL;DR - watch the video announcement
---
What's new?
Click for a summary of all features
Don't forget to download the free Ribblr app update on your iOS and Android devices.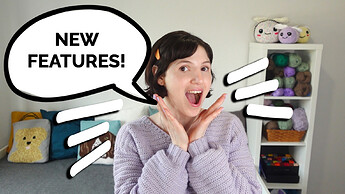 Say hello to Lucky Sunday! Want to find what it's all about? Watch this space on Sunday… And you might get lucky
---
We're starting to slowly roll out Ribblr ePattern's offline mode! You can now continue to work even if your internet connection drops. You'll still be able to see photos and track your work. Your work will be synced as soon as you go online again - so make sure you don't exit the pattern beforehand.
This is only the very first stage of our offline mode and you can expect more in future feature drops.
---
You can now find patterns you'll love that are currently on sale right on your personalized home page! You can also use the new "on sale" filter when using our advance search. Read more below.
---
We're continuing to improve Ribblr's advance search.
You can now filter your search results by craft type, category, yarn weight, size, skill level, favorite shops, craft alongs and also by patterns that are on sale.
It's never been easier to find your next project!
We've also further improved the search navigation to make sure we always remember your previous search location.
---
You will now find a new featured journal section on Ribblr's homepage and you can be featured! All you need to do is update your journals with notes and WIP/FO photos.
---
You can now find a link to someone's public journals right from their profile. Simply click on their name or head to their profile to find it. Don't forget to be a nice friend and give their journals a like!
Some of you may have seen this already, as we launched this earlier this month.
---
You will now find new tester calls directly on your personalized home page so you never miss out on a tester call.
---
Designers, you can now send gifts to multiple Ribblr users at once. Simply enter multiple usernames, separated by commas, right from your shop.
---
Our quick copy & paste feature which allows you to convert existing PDF pattern to interactive eco-friendly Ribblr ePattern is now even smarter and will easily re-format your pattern to make it interactive.
So you can go ahead and convert your existing patterns to make sure your customer enjoy the best crafting experience and you enjoy the ultimate pattern protection.
---
You can now select multiple lines and change the line mode (section, subsection, information, row/rnd) for all lines at once.
---
Android app: the traditional 3-way navigation bar will now always display for those using it

Designers: you can now remove your shop banner by clicking the bin icon

More Crochet abbreviations added

Overall UX & UI design improvements
---
A HUGE thanks to everyone who helped us test the new features!
Want to try out new features before everyone else? Click here and join our testing group.
---
We're constantly improving Ribblr! We release fixes weekly and new features and improvements every couple of months. Feel free to use to suggest new features you'd like to see!
In case you missed it, here's what we released on previous feature drops.
---
So… what's your favorite new feature? Vote in the poll!
Offline mode
Featured "on sale"
Featured journal
Featured tester call
Advance search filters