Say hello to Alix (@irunthisknit) - our Ribblr of the week and the designer behind irunthisknit!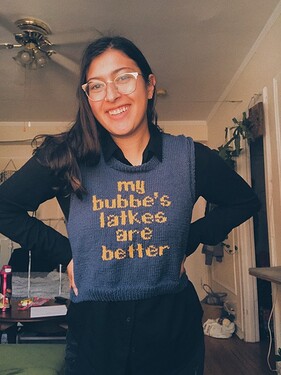 ---
Hi Alix!
Tell us a little about yourself.
I am a full-time masters student and part time knitwear designer who also dabbles in activism. My main "thing" is colorwork patterns and helping to fill the niche of Jewish patterns.
When did you start crafting and how?
I started knitting and crocheting when I was 7 (my dear Grandma taught me), but didn't begin knitting garments until a few years ago. I made my first colorwork piece during the early days of quarantine and the rest is history!
And how did you start designing?
I started designing to fill a gap in patterns that I saw around the winter holidays. One of my first patterns was a Hanukkah sweater
Do you have a favorite craft type and if so - why?
YES! I am a knitter through and through. I do know how to crochet and see crochet patterns I like all the time, but I am definitely someone who prefers knitting.
What was the longest project you worked on?
I have so many WIPs from 2+ years ago in my WIP drawer… I am a fast knitter in general, so when a project takes a long time it's usually because I abandoned it.
And how about the shortest one?
I love to knit quick little projects – my favorite rainy day project is a chunky hat or DK weight scrunchie. They only take an hour or two and are so satisfying!
What's the most recent project you've worked on?
My most recent project is my new Hanukkah vest design. Keep an eye on my page for its release!
What is your usual process of designing?
My process is not quite linear, although it always starts with the germ of an idea. Usually I will see a phrase or see a garment in a store and get inspired to create a knit pattern. I'll start with a sample in my size, then grade the pattern out and send it to testers before it is released.
What or who inspires you to create and design?
Everything inspires me! I love to get inspired by other knitters and makers.
Time for some pop culture!
What's your favorite music?

I have been listening nonstop to the soundtrack from the Broadway musical, Come From Away recently. I was lucky to see it years ago on stage, and rediscovered it recently. It is the most heartwarming musical and so, so worth a listen through! It's great soundtrack to listen to while knitting because the soundtrack carries the plot, so it's like listening to a really wonderful movie.
What is your favorite feature on Ribblr?
By far my favorite feature is the ability to choose a single size for knitting patterns. I make mistakes constantly on PDFs by reading the number for the wrong size and this feature was a huge game changer for me.
Pay it forward - your shoutout to a fellow Ribblr

I gotta give a shoutout to my internet friend Jaime (@jaime_creates) Unique patterns | Jaime Creates | Ribblr. She is awesome and her patterns rock!
Thank you so much for sharing Alix!
---
Check out irunthisknit shop
And join our mutual giveaway on Alix's Instagram page: Login • Instagram
---
Want to read more?
Check out all our previous featured Ribblrs here.
Want to be our next Ribblr of the week and earn a special badge?

Send us a message and be our next Ribblr of the week (plus earn our special Ribblr of the week gold badge🏅)
---
Any questions for Alix? Share them below!