Last week we featured Kaylee of Crochet by Kaylee and this week we're excited to introduce you to Drew (@drewbieszoo) of Drewbies Zoo, our Ribblr of the week!
Drew is a talented designer and animal lover. As you can imagine - the combination of both guarantees unique & beautiful designs!
Scroll down to read our short interview with Drew.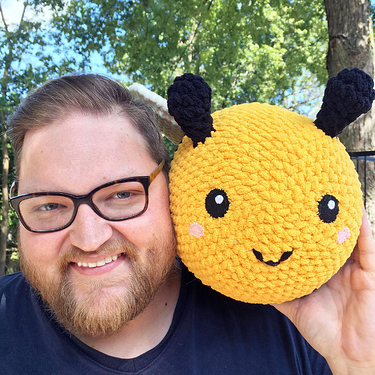 ---
Hey Drew! Please introduce yourself

Hi! I'm Drew, I grew up in Ann Arbor and studied Costume Design at U of M. Since graduating college I've lived in Chicago and Los Angeles, but Ann Arbor keeps calling me back. It's such an amazing city to live in and it's great to be close to my family and my 1 year old Golden Retriever named Billy.
When did you start crafting and how?
When I was 10 years old, my grandma taught me how to knit and I became obsessed! I knit on and off all the way through middle school and high school. When I was in my last year at Pioneer, I started a small club for knitting and yarn crafts and it was at this time that I first picked up a crochet hook. I taught myself from a book and was amazed at the artistic freedom that crochet offers. With knitting it can be difficult to get the desired shapes but with crochet you can make just about any shape!
With that in mind, do you have a favorite type of craft?
I definitely crochet more than any other type of craft, but I really do love trying everything! I recently got a Cricut cutting machine and I've been playing around with making new things with that! I enjoy sewing and jewelry-making as well.
So when did you start designing?
In 2014 when a good friend from High School and his wife were expecting their first child that I tried my hand at amigurumi. I wasn't entirely happy with the patterns I was finding, so I decided to make my own and I just haven't stopped since!

Hippo Amigurumi by Drewbies Zoo
What inspires you to design?
I am all about fun. I try to find a little fun and whimsy in everything I do and since starting Drewbie's Zoo, my goal has been to share that with others. Sometimes you just need something cute or punny or beautiful to make you smile, and providing that for others definitely makes me smile!
And what is your usual process of designing?
I usually start with a sketch- to figure out the basic shapes of whatever I'm making. Then it's a lot of trial and error to turn the sketch into a 3D object.
Which of your makes or designs are you most proud of?
I did a very fun custom collection for a baby shower with a bunch of characters from The Lion King and was so proud of how they turned out!

That's adorable! Is this the longest project you've worked on?
No, for my Mom's 50th birthday I knit her a giant blanket that had 50 squares in it. It took so long but it was totally worth it!
What is your favorite feature on Ribblr?
I love how easy it is to add photos to a pattern in Ribbuild! Sometimes it's way easier to show something than it is to describe it and Ribbuild makes that so easy!
Pay it forward - your shoutout to a fellow Ribblr

2 fellow Amigurumi creators who I absolutely love are Ohana Craft Amigurumi (@ohanacraft) and Lemon Yarn Creations (@LemonYarn)!
Thank you Drew for sharing your story! It's so great to learn more about you
---
Check out Drew's shop and let us know - which design is your favorite?
---
Enjoyed reading this? Check out our previous Ribblr of the week posts!
Want to be our next Ribblr of the week?

Send us a message and be our next Ribblr of the week (plus win our special Ribblr of the week gold badge🏅)
---