Say hello to Faith (@stichedbysisters), an up and coming amazing crafter and our Ribblr of the week!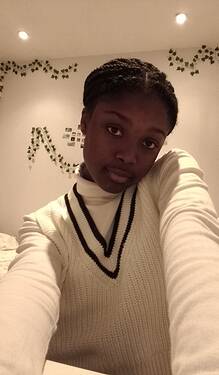 ---
Hi! Tell us a little about yourself.
Hiya my name is Faith and I am 50% of Stitchedbysisters, I've recently turned 13 and I live in the UK. When I'm not crocheting, I'm learning how to play the violin
(It's very hard). I can crochet and knit but prefer crocheting as I find it faster and easier, I'm also learning how to sew
So when did you start crafting?
I've always enjoyed arts and craft like painting and clay art (I even tried calligraphy) but eventually I would get bored and start a new hobby. I think it was late May or early June 2021 and I asked my sister how to crochet but I got really angry that I wasn't getting it straight away that I broke the crochet hook (heh heh heh) so I decided to ask my mum how to knit and soon I was making headbands and scarfs (they weren't very pretty). Then randomly I decided to re-learn how to crochet and yeah that's it.
And how did you start designing?
My first pattern was a knit pattern but I don't think I understood what rounds/rows were when I wrote it so it was just paragraphs of instructions which weren't very easy to understand. Then when I began crocheting I decided to write my first official pattern Dave the Chonky Flower Boi.
What is your favorite craft?
I would say my favourite craft type is crocheting because it is so versatile and I prefer the look of the stitches.
What's the longest and shortest projects you've worked on?
My longest project I made was this crop top I made (my first ever piece of clothing) it took 5 weeks and I've only wore it once and I kinda broke the strap…
My shortest project would be a frog I made for a friend, it only required a small amount of sewing, we decided to name him Michigan (really random).
And what are you working on right now?
Right now I'm currently making a winter dragon, the pattern is by @crochetcraftsbyjenna, I would definitely recommend checking it out and I believe it won pattern of the month in December and I'm making a green tote bag. Also I'm brainstorming tons of patterns which I'll probably never publish lol.
Which of your makes and designs are you most proud of?
I would say I'm most proud this Daisy kitty I made. The petals took an age and when making the body and head I couldn't see any of my stitches
but it was definitely worth it. I'm currently writing out the pattern but I keep procrastinating, so at this point it's gonna be released in August
What is your usual process of designing?
I normally start off by drawing my character then I create a backstory to make the character come alive or sometimes I get random rush of inspiration and I start crocheting right away, it normally depends on my mood.
What inspires you to create/design?
I normally get inspired by TV characters, aesthetics or just nature. Also seeing other crocheters designs or I just get a really random idea.
Any favorite song, book or movie you would like to recommend?
Right now I'm really into Studio Ghibli's movies, I just love the whole aesthetic, soundtracks, scenery and animation and it makes really wholesome movies and I would say my neighbour Totoro is my favourite movie, I don't know why but the cat bus creeps me out
. If you wanna laugh I would defo recommend Pitch Perfect because it's so funny especially with characters like fat Amy/Patricia
Make us laugh! Care to share a funny story that happened to your recently?
So I think it was about 2 or 3 years ago and I was walking home from school and I came to a corner and I thought there was no one else on the road so I let out a really loud burp but there was a mum with her kids and she said "Nice one" and I said " thanks" but I was so embarrassed that I just ran all the way home. I guess I learnt my lesson.
That's hilarious!
What is your favorite feature on Ribblr?
My favourite feature would be Ribblr ePatterns as they are so easy to navigate and you can track your rounds with ease compared to PDF and web patterns. I also think the ribblr community is really good as the community is so kind and it so fun to chat with fellow fibre artists and I've made so many friends as well.
Awesome! And finally the stage is yours. Pay it forward with your shoutout to a Ribblr

Limmycrochets @limejime08. We had the opportunity to do a pattern collab it was so fun and Molly and Monty are such a cute couple. When you have the time be sure to check out Millie's shop
Also I would say the whole Ribblr community, I have never met a mean person and everyone is just so kind and supportive <3
Thank you so much for sharing!
---
Don't forget to check out the stichedbysisters shop​
---
Want more?
Check out our previous featured Ribblrs here.
Want to be our next Ribblr of the week and earn a special badge?

Send us a message and be our next Ribblr of the week (plus earn our special Ribblr of the week gold badge​)