Say hello to Melinda (@rhyflowerknits), our Ribblr of the week and the designer behind RhyFlower Knits.
---
Hey Melinda! Tell us a little about yourself.
I live in my century-old home, located in Edmonton, AB, with my wonderful husband Curt (often seen modeling my designs) and my bouncy boxer puppy Merlin. Besides knitting, I'm an avid baker, am passionate about board games, and actively listen to far too many true crime podcasts than I'd like to admit.
That's really cool! We'd love to know - what is your favorite type of craft and why?
Knitting is, by far, my favorite craft. It's so versatile! If I need something easy going, I can work on a basic project. If I need something highly engaging, I can work on some complicated lace stitches. There are few hobbies can be scaled to precisely what you're looking for, all while still producing something functional at the end of it.
When did you start knitting and how?
I am an anxious creature and am always fidgeting. My grandmother taught me to knit when I was 22 to funnel all that nervous energy into something (and likely keep me calm and still, lol).
That's wonderful! We're curious - what was the longest project you worked on?
My longest project would be my scrappy blanket. It's a low-priority as far as my projects go, so I put a couple of squares in it every few months between my passion projects lol.
And the shortest one? (excluding frogging!)
Mini shawls! I've been writing shawl shaping 101 posts on my website, so I've been knitting up the cutest little samples to show how the shawl shaping works. I can crank out a shawl in less than an hour when they're that small.
Which of your designs are you most proud of? Share a picture!
That's like trying to pick your favorite child! Probably The Quest. I had been dreaming of it for several years, but am terrible at creative writing, so finding Taru who could write the storyline to accompany the design took quite some time. Now that it's all finally come together, it brings me so much joy!
Here it is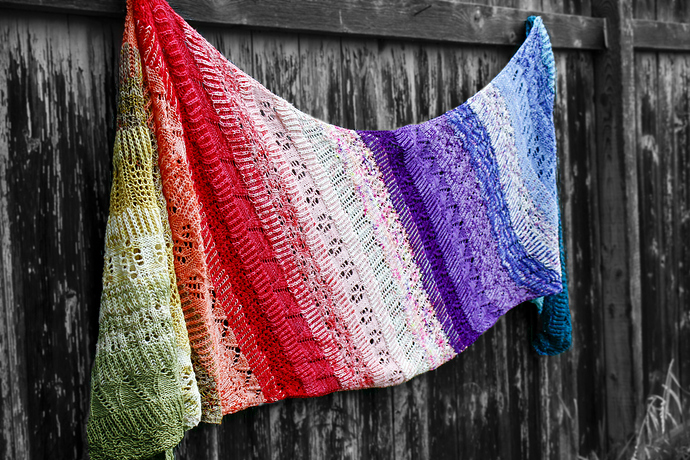 The Quest by RhyFlower Knits
Do you have a favorite book you would like to recommend?
I've been enjoying books written by Shari Lapena as of late. They're full of suspense and keep me guessing.
What is your favorite feature on Ribblr?
Thus far, my favorite feature is how easy Ribblr makes it to keep track of where you are in your pattern. As someone who prefers to work from digital rather than printed copies of patterns, checking off the rows is a total game changer!
---
Thank you so much Melinda for sharing your story! Comment below to show your love and let us know which RhyFlower Knits design is your favorite!
Want more?
Check out our previous Ribblr of the week!
Or click to be our next Ribblr of the week

Send us a message and be our next Ribblr of the week (plus win our special Ribblr of the week gold badge🏅)