We're delighted to introduce our new Ribblr of the week: say hello to Ruth (@RuthBraschDesign) of Ruth Brasch Design!
Scroll down to read our interview with Ruth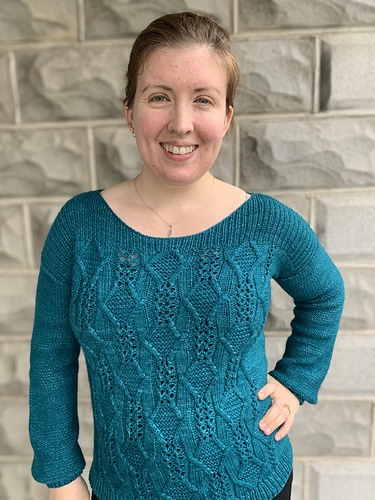 ---
Hi Ruth! Tell us a little about yourself.
Hi, I'm Ruth, a stay at home mom to three kids, and a designer of knitting, crochet, and Tunisian crochet patterns!
Wow, that's a lot of crafts! Do you have a favorite?
This is a difficult question for me. I like different crafts for different projects. For example, I prefer crochet for blankets, knitting for socks, etc. Because I have three crafts to choose from I don't really have just one favorite.
When did you start crafting and how?
When I was 10, I found a crochet hook in my mom's closet and asked my grandmother to teach me. She showed me how to do a chain stitch, but lived 10 hours away and we had to go home by the time I'd caught on. Everything else I learned by borrowing books from the library and following the instructions in them. As a result, I'm very good at improvising, which lends itself nicely to designing!
Definitely! Is there a design you are particularly proud of?
Without a doubt Arkenstone is the design I'm most proud of. It's my first knit sweater design ever, and from concept to publication it took me about 2 years.
That's really impressive. Is this the longest project you worked on?
In terms of just making time, I used to crochet massive filet crochet blankets when I was in high school, and they'd take me 3-6 months of non-stop work to complete. Recently, however, I think my Rowe sweater by Michelle Wang took the longest - about 3 months.
Do you work on small projects too?
Yes, I do I lot of these! I just completed a test knit for another designer where I was able to knit a pair of slippers in a couple hours, and I've also crocheted a ton of baby booties and gift items, and those usually take just a few hours.
Do you have a favorite song, book or movie that you would like to recommend?
These vary frequently. Currently my favorite song is "End of Me" by Ashes Remain.
What is your favorite feature on Ribblr?
I think I'm tied with the auto-importing for designers (the ability to copy and paste, and have your sections already created!) and the smart sizing feature - that's so good on a pattern like Arkenstone where there's such a large size range.
Pay it forward - your shoutout to a fellow Ribblr
Definitely go check out @Abbeymade's designs! She's doing wonderful things with Tunisian Crochet design.
Thank you for sharing Ruth!
You can find Ruth's shop below and you can join Ruth's new personal space!

---
Want more? Check out our previous Ribblr of the week posts!
Want to be our next Ribblr of the week?

Send us a message and be our next Ribblr of the week (plus win our special Ribblr of the week gold badge🏅)
Question time! Which of Ruth Brasch's designs is your favorite?