Hi Ribblrs!
We're excited to announce our Burda x Ribblr partnership

Burda have been at the forefront of Sewing for nearly a century, empowering millions of Sewists around the world.
The first issue of their Sewing magazines was published back in 1950, and now we are both excited to offer Burda Beginner, a series of 8-lessons, available in a Ribblr ePattern format with trackable steps and video tutorials.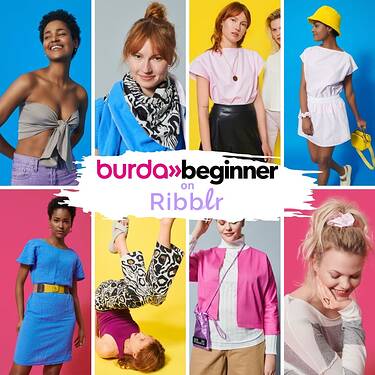 Always wanted to Sew?
Burda Beginner is the perfect introduction to Sewing. All lessons are suited for complete beginners, and you'll learn how to cut, sew and hem your new wardrobe pieces.
Burda was founded in 1949 by Aenne Burda, Burda Style is the leading DIY fashion magazine with over 70 years of history. Today, Burda Style is recognized worldwide for its expertise and quality in sewing projects.
Burda Style magazines offer new trendy European chic designs every month, tips & tricks, and much more, all printed on recycled or sustainably sourced paper. Why not join the Burda Style community and create your own homemade and customized wardrobe?
In the first Burda Beginner lesson you'll learn how to make your very own Tied Bandeau Top which doesn't even require a Sewing machine!
---
Want to win an 8-lesson bundle?
To celebrate this exciting new partnership, we are giving away the full 8-lesson bundle to 3 lucky winners
All you have to is comment below and tell us if you tried Sewing before, and if not why you're excited to give it a go!
---
Winners!
And the winners for this ultimate Burda Beginner 8-lesson bundle are… @Gabri3113 @saoirse @icedbucky
Your bundle should be waiting for you in your patterns library!
Thank you everyone so much for sharing why you're excited to Sew. Burda have been kind enough to provide 2 of the 8 lessons completely for free!
One doesn't even require a Sewing machine →
Also for free: