Thank you so much
Last week update:
Continue work on my sweater
~kinda, not enough
Continue work on son's sweater
~oops, started one for my daughter instead
Paint 18 wood "ornaments"
~all but one, that's for me anyway, so not a big of a deal
Figure out laser engraving settings for mirrors
~not yet
This week:
Continue on 3 sweaters
Figure out mirror laser engraving setting
Engrave mirrors and ornaments
Thanksgiving prep (dessert as we are guests this year)
That's a big task list! I love how the sweater you've been sharing photos of is coming along and the wooden ornaments are such an awesome idea!
It's kind of big, but I don't expect everything to be finished. For example, if I do a couple rows on each sweater, I'm happy.
And the laser stuff won't take much once I get started on it…
Task Tuesday again!
Last week update:
~ Continue on 3 sweaters

Worked on 1 or 2, I don't remember (son's 1st sleeve almost done)
~ Figure out mirror laser engraving setting


~ Engrave mirrors and ornaments


~ Thanksgiving prep (desserts)


I also worked on Celtic Myths Fingering Shawl, which I set aside a couple of months ago
This week:
~ Glue mirrors to ornaments
~ Continue work on sweaters
~ Continue work on shawl
~ Finalize devotion for "In Stitches" group
This week my only craft related goal remaining is to work on the handbag I'm testing. Yesterday I made a mobius strip for hubby.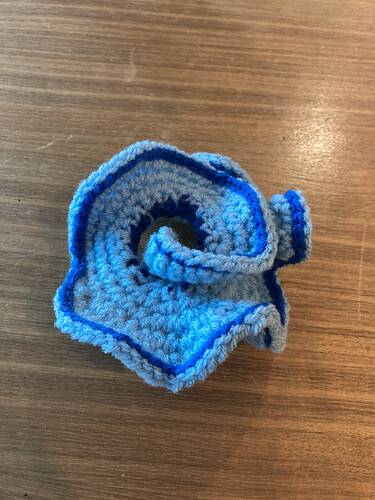 My today is to catch up on my testing queue!
My son and I decided that I am going to rip out his sweater and start with a different pattern… so there's that…
my task tuesday i am making adjustments to a pdf pattern i just finished with a tester call on here so my eyes are a wee bit crosseyed lol
Finish the patterns I am testing right now!
Mine is to finish the balloon dog I'm making!
Crocheting Ghosts & pumpkins for an order