Thank you everyone for enjoying the exclusive deals we have for you!
We still have limited coupons left for you! Grab extra 25% OFF plus FREE shipping
Bernat Softee Baby Yarn - Bananas color is 70% off at $1.95 instead of $6.49!
Lion Brand ~44% OFF all yarn plus FREE shipping - only with your Ribblr coupon
For example, Lion Brand Tom Daley edition is $5.62 instead of $9.99 - only with your Ribblr coupon!
Lion Brand Baby soft is $5.05 instead of $8.99 so nearly 50% OFF - only with your Ribblr coupon
$6.74 before your Ribblr coupon is applied.
Lion Brand Mandala $9.55 instead of $16.99 - only with your Ribblr coupon with one style - clearance for $5.94 only!
See all Lion Brand deals here.
Big Twist - 25% OFF plus an extra 25% OFF only with your Ribblr coupon, and free shipping!
$3.6 instead of $8.99 for Bulky:
$2.53 instead of $4.49 for medium weight value yarn:
Super Bulky for just $6.74 instead of $11.99:
$14.05 instead of $24.99 For Big Twist Jumbo - amazing yarn!
Shop all Big Twist deals here.
---
All orders are being fulfilled by JOANN, our official partners.
We've had lots of Ribblrs already get their orders with 1-2 days so make sure you place your order today before coupons are gone!
Here's how you claim your coupon: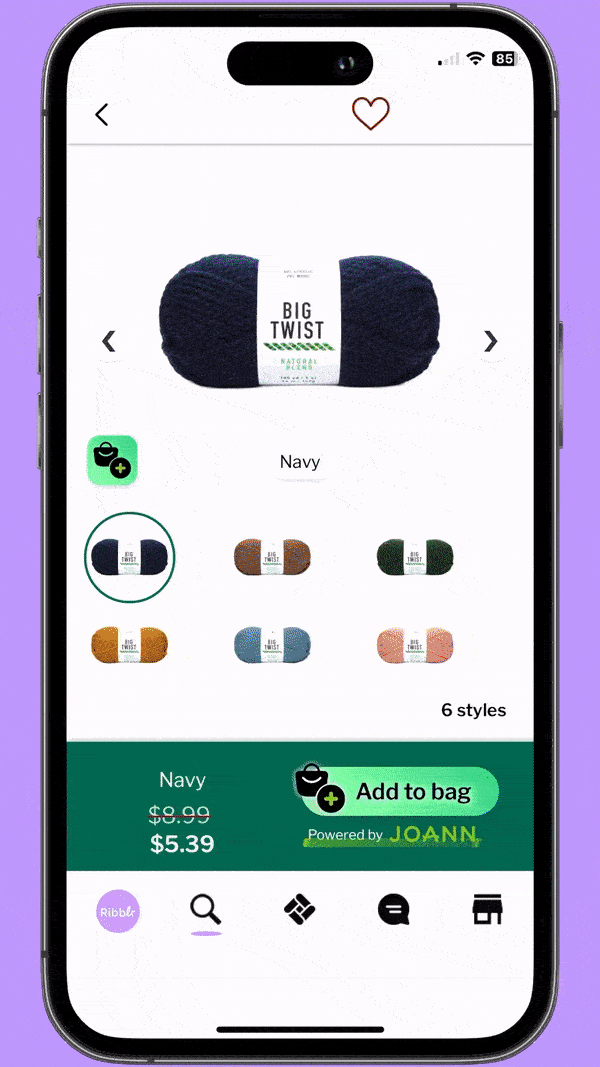 Coupon terms

Coupon terms:

Excludes Clearance and Doorbuster items
Single-skein only, excludes multi-pack
FREE shipping above $25 of yarn, to the US only
---
$500 giveaway! And the winners are…
So many of you join our HUGE giveaway - and we're so excited to give back to our wonderful community with no less than 13 lucky winners and over $500 worth of prizes!
5 First prize winners - $75 each! 💰🎉
8 Second prize winners - $20 each! 💰🎉

And 3 more winners from our Instagram giveaway:
6. @kc.ities
7. @get_thehook
8. @dudley.fam.crochets

Congratulations to all winners!
Please send us a private message with your details to collect your prize
Didn't win? We've got a special edition Lucky Sunday, giving away $10 JOANN gift card. JOIN NOW before it ends tomorrow!