I need advice on buying a good set of crochet hoock please.
i'm not sure where you are from but i have been enjoying set from amazon brand JOZEA but the one with coloured hooks and coloured grips, and not the silver hooks one. Since i started with metal hooks so i found other hooks very difficult to get used to, i did try prym ones which everyone hyped up but didn't enjoy much? and felt like it would snap
I use similar ones on amazon by brand ZGTS. I like the soft grip ergonomic feel.
I use Susan Bates the most and I don't like the squeaky drag of Acrylic nor the drag of resin, etc.
I love the handle of Furls Odyssey (made with nickel) and wish they made an in-line Odyssey. .
I did buy Furls streamline (Wood) but after a couple of their hooks snapped off, I gave up on them. Which is one of the reason I stay away from wood cuz the others have snapped also. My tension is probably too tight for those types of hooks.
I've tried OPhire hooks which had a great pointed head, in-line, and looks pretty. But after a couple of heads snapped off…….
So nothing against streamline/ OPhire etc- my tension is too tight Would probably be great for those with loose tension.
I can't stand tapered hooks, especially Boye hooks. The yarn is always sliding off when I crochet with tapered hooks-aggravating.
Don't spend much on a set until you know what you like. And even then, don't spend more than you can really afford to lose if you pick wrong. Try one or two from a company in the sizes you use most. Try different styles and materials too, they will make some difference in your experience.
Thank you i will look at them.
I am from Québec. Amazon is a good idea. That was my first tought.
I am the opposite. I love the Boye hooks. I have a few Susan Bates but if I have both to choose from, I always pick the Boye. Not sure why I have an issue with the inline hooks though.
I have a huge post about the different shapes and styles of hooks and needles
Personally, I have the same set of boye books I've had for like 40 years and have never had a problem. But I also own well over 200 knitting needles, so I get wanting the right hook for the project
By the way @Tipoulet
Welcome to Ribblr!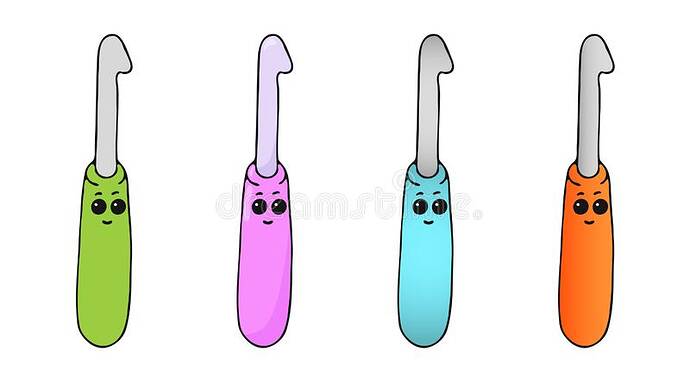 I agree with Tiphani @anon5108995 on not spending a ton until you find the right for fit for you…
Also my suggestions are going to be based on the fact that I prefer tapered (like Boye style), not inline (like Susan Bates style)
I love my Furls Odyssey, but I can't afford a whole set (currently only have 1 in my most common used size, at least at the time of purchase)
My 2nd favorite set is quite affordable and has so many benefits
Yarn Mania Interchangeable Lighted Hook Set
Here's a reply I did to another post talking about my favorite things about it
(And welcome to Ribblr!)
Thank you verry much! I am happy to be here.
Thank for the information.
Thank you it would help​
Thank you