Ready to find out everything about our new feature drop?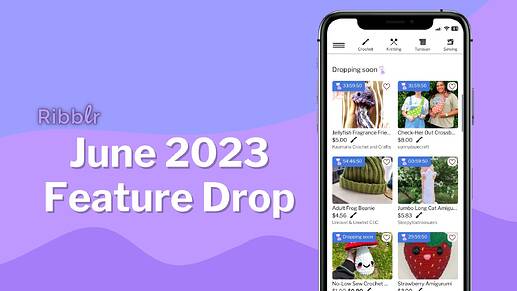 ---
New & improved UI
Accessibility has been a key goal for this Feature Drop.
Even though Ribblr is still a young platform, we released many accessibility tools over the past 2.5 years.
That includes left-hand mode so you left-hand crafters can watch video tutorials that are personalized for them, reduce motion mode, dark mode and more.
Today's Feature Drop makes Ribblr even more accessible.
Our team has worked tirelessly behind the scenes to make sure you can enjoy an even better browsing and crafting experience with speed improvements and new icons, colors & fonts.
You'll notice this across our entire platform - your patterns library, the community and even Ribblr ePattern all have that upgraded look & feel.
There's also better searching experience in your libraries as you can now find patterns by searching for a name (or partial name), designer/shop, and even tag.
---
New community tools, spaces and more
Say hi to Suggestions - our new space!
As Ribblr continues to grow rapidly, we're always looking for ways to keep the community organized.
Essentially, the Support
space is now dedicated only to questions and support queries such as reporting bugs or asking a question about a feature.
Our brand new Suggestions
space is dedicated to new features and improvements you want to suggest.
This is a key space for Ribblr as we release new features based on your suggestions every single month.
We'll be monitoring it and keeping an eye on the like count to see which suggestion is particularly popular.
Mark it as solved
With our Support
space being solely dedicated to support, we now have a new feature that lets you mark a post as a correct answer. This helps us keep things organized for repeated questions, and also rewards helpful community members.
And with that in mind…
We have quite a few new badges, including the incredible solution-institution which can also be used as a title next to your profile.
Even more new things on the community!
---
Sort wishlist by patterns on sale!
You can now sort your wishlist by sale. Just click the 'sort by' icon or word to get going.
---
View your karma points
You can now see your own karma points on your makes page.
As a reminder, Karma points are earned when you complete a pattern test using our new testing tools that were released last month.
---
Filtering patterns in your shop ( for designers)
Designers, you can now filter patterns in your shop for an easier and better shop managing experience. Choose from 'all', 'public', 'draft' and 'testing' to filter the list of your patterns.
---
Even more…
~ Terms & Conditions update, including our new Content Guidelines.
~ New Help center questions & answers
~ New Ribbuild tutorial video
~ Large iPad and Android tablets shop layout bug fix
---
In case you missed it… our previous feature drops
Did you learn about our Ribblr's new testing tools yet?
Check out all our previous feature drops!
---
Which of our new feature do you love?
Vote for one or many!
New user-interface
All the new community spaces & tools
Something else (post below)