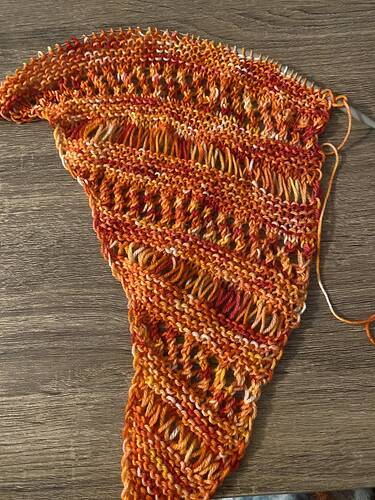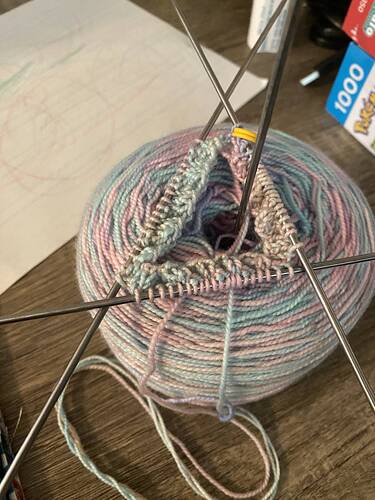 I've been working on this shawl and this pair of socks this week after I've finished crocheting two otters and sewing up a few skorts as well.
That shawl will be fabulous!
Lol me too… i am making a pattern for a dog rn and i have not touched it in weeks
Since I know I can't really reply more than 3 times in a row, I'll lump together every thing…
@SarahOhSew I love making shawls and socks and can't wait to watch yours progress!
@CosmikEluminatedC Oooh! That is looking lovely, can't wait to see the FO
@Loladoggo How fun!! I loved bomb pop popsicles
@Mentaldee I think baskets are the perfect choice for "hmmm what do I do with this?" yarn. How many have you made so far?
I spent most of yesterday doing the initial st count figuring for a cardigan I'll make my daughter (and hopefully one day make a pattern for it), so I don't have any new pics to post for WIP… I did finish the cardigan from last week, just need to photograph it still… it didn't work as I intended so although she wears it, I need to go back to the drawing board on it
Im on the tail part and hoping i don't have to go to Michaels for more yarn. I never thought id design a dragon i do love them though. Ill definitely share once im done.
i missed this yesterday but i'm
working on a "Father Frog" it's a leggy frog with a mustache and top hat. i have the body done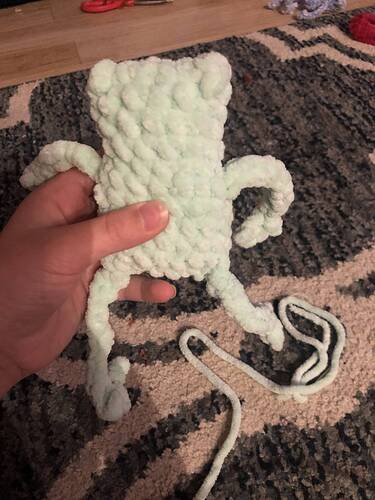 It's #WIPWednesday again!
Mine doesn't look like much so far as the true design is in the border, but here's my Fingering Celtic Myths Shawl WIP

Let's see yours!